I love to draw...
Star Wars pictures!
Drawing Star Wars pictures is one of my biggest hobbies! I simply focus on one detail, then the next and the next, until the entire drawing is done.
Here are some of my drawings...
Click on the thumbnail, my drawing opens in a new window.

| | | |
| --- | --- | --- |
| | | |
| | | |
| | | |
| | | |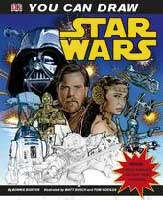 This book, "You can draw Star Wars" by Bonnie Burton has really helped me with drawing better Star Wars pictures.

I draw in pencil, so I can erase it when I do something wrong.

This book shows you how to draw characters, ships and weapons, but also how to make a Star Wars comic (although I haven't done that yet).
Ralph McQuarrie Drawings
When you talk about Star Wars Pictures, you talk about Ralph McQuarrie! After all, he visualized George Lucas's ideas for Star Wars. Here you can find more of his drawings:
Star Wars Portfolio Ralph McQuarrie (1983)
I've photographed my Star Wars Portfolio by Ralph McQuarrie, so you can check it out. It's a portfolio of the Star Wars Return of the Jedi movie, and holds 20 drawings.