Welcome to the Star Wars Galaxy!
Are you a big Star Wars fan? I am!
I LOVE Star Wars!!!
Come see the Star Wars Galaxy, a growing universe of fun Star Wars stuff. Of course, I will show you my collection of Lego Star Wars ships and minifigs, and tell you everything about my favorite people from Star Wars. You can get your own Star Wars name by using the Star Wars Name Generator. And I give you tips for my favorite Star Wars Games.
Who am I?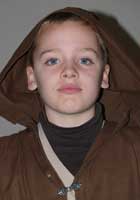 My name is Wijnand, I'm 10 years old, and a huge Star Wars fan from when I was 4 years old and watched the movies with my Dad. If you wonder about my name, it's Dutch. And I'm Dutch too. My English is not so good yet, so my Dad helps me with the site.
Every day I play with my Lego Star Wars Ships and Minifigs. It's quite a big collection! And I love to draw... pictures of Star Wars of course!
My favorite characters are Yoda and Darth Vader.
But this site is not just a place for me to share with you... if you want to share your favorite Star Wars pictures and stories with your fellow Jedi Masters, you can do that soon. Just keep a look out for "Expand the Galaxy", this shows where you can send it to us so we can check it out and put it on the site. Thanks!
I hope you like the site, and come back often!
Bye-bye!!!

These Star Wars Lego versions of the real ships are so detailed, they are simply the best!
My I introduce to you my extensive collection of Star Wars Legos minifigs...
The Star Wars Hasbro toys are the most collected and traded star wars collectibles. Espcially the vintage Hasbro toys/Kenner toys.
I don't have all that many Star Wars books, but they ARE a part of my collection. So here they are!
I've created my own little Star Wars Collectors Guide by putting all abbreviations I could find and post them here.
2 verrrry coooool Star Wars name generators. Sub zero!
On Sunday March 2nd 2008, I went to the Star Wars exhibition in Brussel with my Dad. We took lots of pictures!
As a real Star Wars fan I often play Star Wars games, on the computer, as card games, or board games. These are my favorites.
Drawing Star Wars pictures is one of my hobbies. Check out some of my drawings!
I've seen the Star Wars movies, like, a million times, and these are my favorite Star Wars quotes.
If you are a huge Star Wars fan like Wijnand, then why not contact him?