The Star Wars Exhibition - Brussel, March 2008
On March 2nd, 2008, my Dad took me on a surprise tip to the Star Wars exhibition in Brussel. So I put on my favorite Jedi suit (I did expect more fans to dress up, but that wasn't the case strangely enough!), and off we went.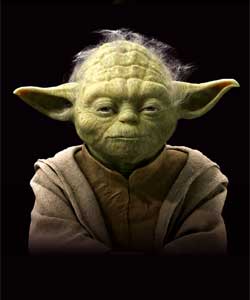 The exhibition was great! There was so much to see, and being so close to the actual movie props and models, seeing the detail they put on it... just amazing. And they let me join the Jedi School, where I got to fight Darth Vader (video coming soon). But see for yourself, my dad and I made plenty pictures.
The Star Wars exhibition opened on February 16th, and will be there until June 2008. After the that, the whole circus moves to Sweden, where it will open on June 26th 2008, in Örnsköldsvik (yeah, I know, impossible name). Read more about it on the official website.
Pictures! (adding them asap)
One of the coolest parts of the exhibition were the Star Wars characters walking around. So whenever I could I was using the force to make them pose with me...

Yeah, your favorite droid is there. R2-D2 and on his opposite side C-3PO. I was amazed with the battle droid! It's size, and bad looks... wow, that's pretty scary. Glad that I don't run into one!!!


Costumes

Many of the costumes used in the movies were there also. Jango & Boba Fett, Anakin Skywalker & Darth Maul, Darth Vader of course, Queen Amidala with her helpers, Ewoks... too many to mention.

Buildings

I wish there had been more building models, but I managed to get a few pictures of buildings, like this one from the Phantom Menace.

Creatures

Ok, it's a bit disrespectful to call Yoda a creature, but his picture fits in best with the other alien masks and models that were on display.

Interior / Chairs

I didn't realize how much the characters were sitting down in the movies... well, at least they had a lot of different chairs to use. Not all looked very comfortable. Like this chair of Count Dooku...

Ship models

Many ship models are on display, and rightfully so of course. I'm amazed at all the detail, and there were also a number of full-sized ships, like the Naboo N1 Starfighter!
Go from Star Wars Exhibition to Home