Star Wars Pics with Me in it!
I wanted Star Wars pics, and I got them. Yeah!
One of the coolest parts of the exhibition were the Star Wars characters walking around. So whenever I could I was using the force to make them pose with me...
Here you see me together with the Princess, the Royal Guard, a Jedi Master, and me of course. The Jedi even allowed me to hold his very cool lightsaber. It isn't a real one (because real ones don't actually exist) but it was giving light and humming when you moved it, just like a real one.
Too bad you can't see the Jedi's face here.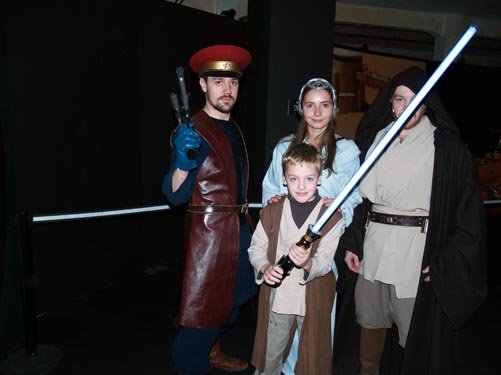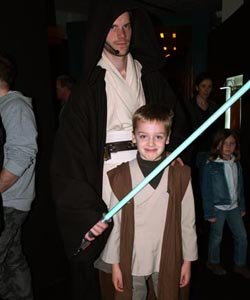 Here I pose with another Jedi... another one of those cool 'Force Fx' swords.
I've got to get me one of those!
(My dad says that if I work really hard in school, then maybe I can get the Yoda Force Fx lightsabre. It's not as long as the one of the Jedi, so it's perfect for someone my size :-D )

It was a good thing that there were so much good guys, because there were a lot of bad guys as well! When the Emporer saw me, he gave me a very nasty look! I guess he doesn't like Jedi's... But as you can see, I don't even blink and eye. I'm much better looking than he is! Maybe he should catch some sleep...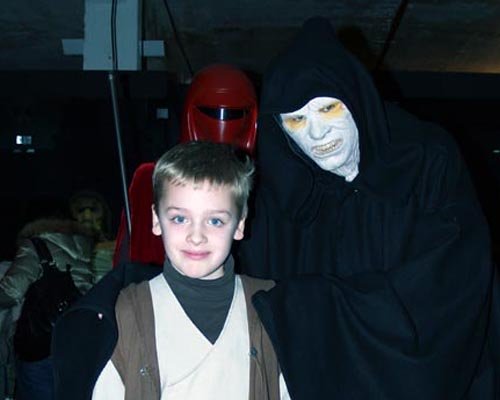 Here's the big guy... Darth. Ok, I'm not actually in this pic, but he was actually just two feet away from me. And this guy is BIG! Darth Vader is cool.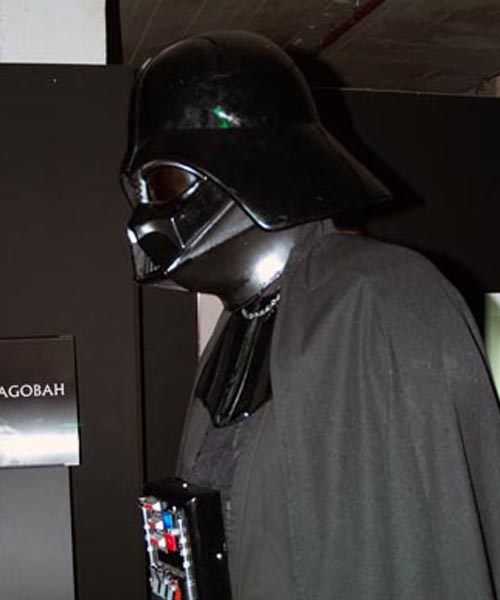 And you cannot have Darth Vader without a storm trooper on his tail... I love these costumes.
Complete with his weapon, he was following Darth Vader everywhere he went. And his trooper friends were not far away!
Recently I saw a video with a parade with hundreds of Stormtroopers, coming from all over the world. My dad always says that Star Wars is the only war that brings people together!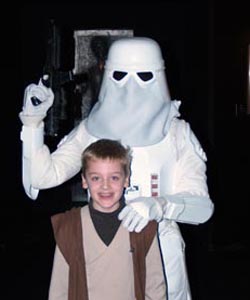 And there's the Snowtrooper!
Ok, he has caught me. But that doesn't matter, because I will soon escape. I will dazzle him with my smile.
They're not used to that, the bad guys.

In the official Star Wars shop at the exhibit, they also had a life-size Jango Fett, all made from lego blocks! Awesome! Also some cool looking Lego ships in the glass cabinet behind me.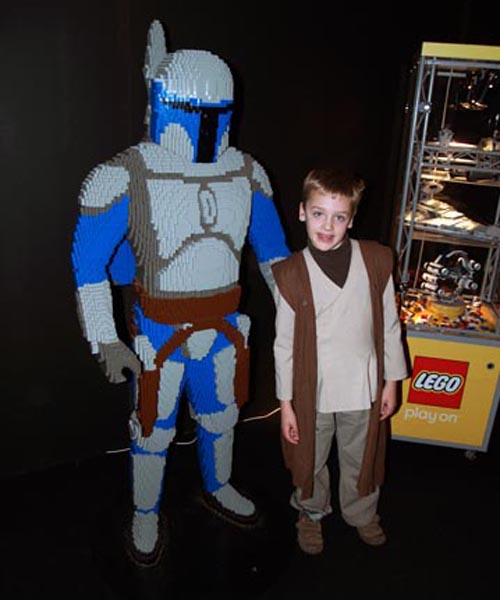 So it was a very rewarding trip for me. Getting so much Star Wars pics, posing with the characters, is great!
Go from Star Wars Pics with Me to Star Wars Exhibition