Kenner Obi-Wan Vintage Doll 12 inch- Released 1978
The Original Kenner 12" Star Wars Vintage Dolls are hot amongst collectors. I have only one, Obi-Wan Kenobi, complete with box, light sabre, promotion booklet and guarantee form.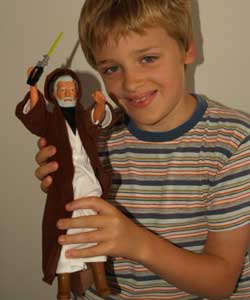 It's a great doll, I can see that these must have been very popular when the original Star Wars movie (A New Hope) was just released. Unbelievable that this doll is 21 years older than me, and it still looks brand new!
I wish my Dad would allow me to play with it, but since this is one of the rarest figures in my collection, I may not. At least I got to hold it for the picture! After that, back in the box!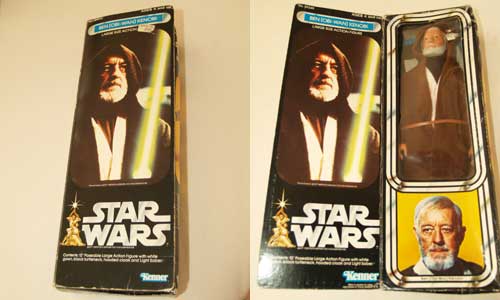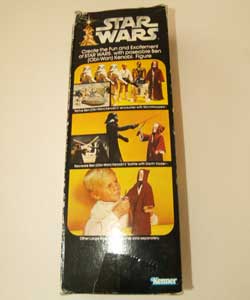 As you can see, the box is a bit beat up. Something heavy must've been put on top. I don't care, just glad the doll is complete in its box... but for serious collectors I guess it would be a bit too much damage. Most Kenner 12 inch vintage dolls with good boxes are AFA (Action Figure Authority) graded anyway, which drives up the price to levels a boy like me can't afford from allowance.
AFA graded vintage dolls can be priced anywhere from $400 to several thousands of dollars, based on how the doll looks, completeness, and damage to the packaging.
A bit too steep for me!

Here's Obi-Wan in all his 12 inch glory!
As you can see, he's complete with his green light sabre, a booklet showing other Kenner offerings, and a "We Really Do Care!" Kenner guarantee note... It says they will replace any part, without a date beyond which this guarantee expires, so I wonder what would happen if I asked a replacement today, 30 years later!
Ha ha! I'm sure they'd have a hard time replacing it!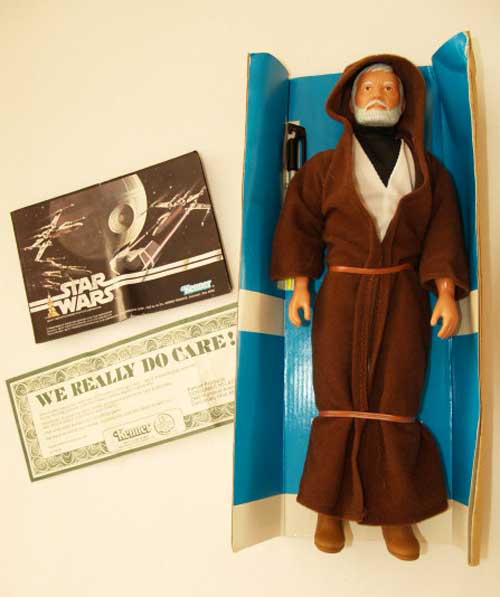 Anyway, I love my 12 inch Obi-Wan Kenobi, even though I can't play with it. It's just great to have one of these in my collection!